The Free Software Foundation Europe is running its campaign once again this year, and I quote:
In the Free Software society we exchange a lot of criticism. We write bug reports, tell others how they can improve the software, ask them for new features, and generally are not shy about criticising others. There is nothing wrong about that. It helps us to constantly improve. But sometimes we forget to show the hardworking people behind the software our appreciation. We should not underestimate the power of a simple "thank you" to motivate Free Software contributors in their important work for society. The 14th of February (a Sunday this year) is the ideal day to do that.
As part of this campaign the FSFE's FOSDEM stand allowed for sending postcards to projects that matters to users.
This year Gentoo received a post card supporting the future development, I love free software, ... but I love you more: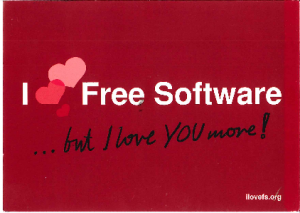 With a nicely thank you note hand-written on the back: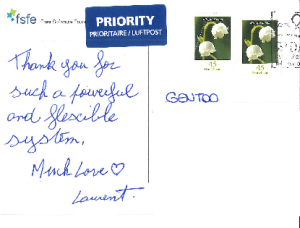 "Thank you for such a powerful and flexible system"
Next year we hope to receive even more postcards, but thank you very much for the one we received this year 🙂
On another note, Gentoo was interviewed during FOSDEM and the recording is available at HPR with Gentoo starting about 1:56:40.